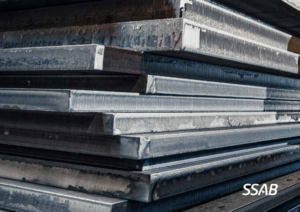 Wouldn't it be great to find a product offering a one size fits all? Multi usage, multi grades and offering multiple opportunities?
Steel is the forefront of our business and with that we want to offer our customers a product that is unique to USP Steels in the UK. We are excited to work with SSAB as the first UK stockist of SSAB Multisteel. This incredible product does exactly what it states, a multi-grade steel, offering certification to 5 different grades, making it multipurpose by name and by nature.
The range of grades the product is offering is not only new to our sector but also new to the UK. This product being the first of it's kind, offers versatility and a great opportunity for customers to reduce stock whilst having all of the necessary range of grades they require to cover multiple applications. The SSAB Multisteel product offers superior steel purity, narrow and consistent dimensional tolerances and trouble free fabrication. SSAB Multisteel's incredible versatility allows fantastic opportunities to reduce stock whilst maintaining the required grades needed.
For more information about SSAB Multisteel, please click here.